. . .
Setting Up Your Experience With Epik Picnics: 5 Things To Know
Who doesn't love a relaxing dinner by the beach, or lunch with friends at a park? Having meals outdoors is a great way to get some fresh air and switch up the scenery. With Epik Picnics, you can take your outdoor meals to the next level with themed picnic setups, luxurious decorations, setup and cleanup handled for you, and more. When setting up your Epik Picnics experience, what can you expect on the day of the picnic? Here are five things to know.
1. Themes
What does the perfect picnic look like to you? Bring that vision to life with help from Epik Picnics. We offer a variety of themed picnics, each featuring seating, plates, decorations, and more that coordinate with your chosen theme. We also have picnic materials in a range of colors, from soft pastels to vibrant hues. Want a picnic that makes you feel like a princess? What about one that looks like a seaside escape? Let Epik Picnics provide the picnic of your dreams.
Our picnics are also customizable, so you can pick and choose the elements for your ideal outing. These picnics are great for a variety of occasions, including birthdays, weddings, anniversaries, bridal showers, date nights, or even just because! Want some inspiration for your next event? Check out our Instagram page to see some examples of the picnics we offer.
2. Locations
Imagine this: warm sun on your skin. A cool breeze off the ocean. The sound of waves rolling onto the shore. A delicious meal you didn't have to cook. We can make that happen! Epik Picnics can set up your picnic in a number of amazing locations, including on the beach, at the park, and more. Whether you want a company lunch somewhere other than the office, a show-stopping birthday party, or a mini vacation without leaving town, we can create a unique picnic experience at the location of your choosing. We love Orange County and Los Angeles, and know you'll love having a picnic in these areas!
3. Place settings
What's included in an Epik picnic? So much! Every picnic comes with seating, place settings, decorations, and more to match your chosen theme and offer something extra special to your day. We start by laying down a charming rug or soft blanket so you're not sitting directly on the sand or grass, then add sturdy tables and cozy cushions and chairs for comfortable seating options. Our place settings come in a variety of colors and styles, from vibrant and fun to simplistic and elegant, and more. Placemats, plates, utensils, napkins, and glasses tie the look together and contribute to a great dining experience. Don't forget the decorations! Flowers and candles set the mood, and a chalkboard sign welcomes your guests. Each picnic is customizable, so you can create a picnic that's just right for you.
4. Food and drink
What would you like to eat and drink at your picnic? The choice is yours! We're happy to have food from your favorite restaurant delivered or supply a delicious charcuterie board. You can even bring food from home if you'd like! When booking your picnic, ask us about our food and beverage options.
5. Setup and cleanup
Arguably the worst part about cooking lunch or dinner is doing the dishes afterward. Who wants to clean up a mess after a meal? With a picnic from Epik Picnics, you don't have to worry about that! When you're done with your picnic, our team cleans up the plates, glasses, seating – everything! – so you don't have to mess with it. We also fully set up your picnic so you don't have to worry about that, either. From plates to blankets to seating and more, we supply everything you need for a fun and comfortable outing. Simply show up and enjoy, and we'll take care of the rest!
Want your next event to be epic?
Don't settle for the same old thing. Epik Picnics can make your next office lunch, birthday party, or other celebration epic. A luxurious picnic on the beach, complete with gorgeous details and mouth-watering food, is something you and your friends, family, or team won't forget any time soon. Let us create a unique dining experience for you. Visit our Instagram page and send us a direct message to learn more.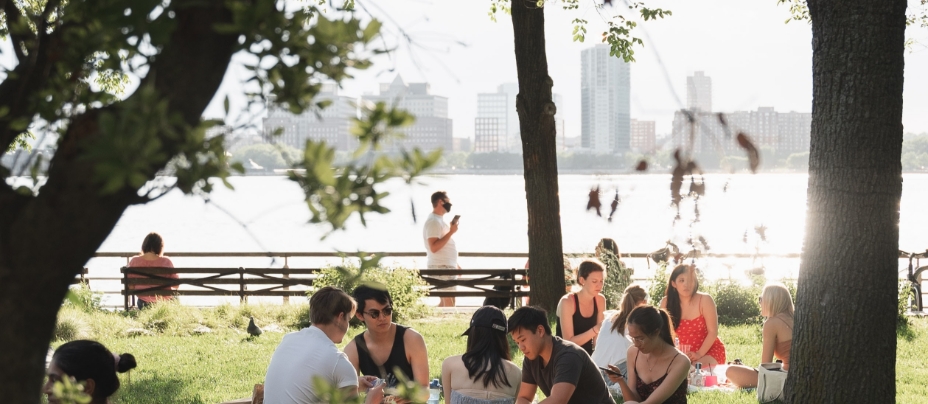 5 Tips For Booking Your First Picnic
Having a picnic is a great way to enjoy a delicious meal while getting some fresh air and catching up with your friends, family or significant other. While traditional picnics are nice, epic (or shall we say, Epik) picnics are even better! Trade in that old picnic blanket in your closet for a sturdy table and comfy seating. Swap out that picnic basket for colorful place settings and gorgeous centerpieces. Make your next picnic one you won't forget. Want to book your first picnic but not sure where to start? Here are five tips for booking your first picnic with Epik Picnics.
1. Know what's included
What does an Epik picnic include, anyway? Before booking, know what to expect! Every picnic comes with a table, seats and cushions, plates, utensils, drinking glasses, napkins, a blanket or rug, a chalkboard sign, tasty food, and fun table decorations like flowers and candles. You can pick one of our themed picnic sets, or customize one for a truly unique picnic experience!
2. Find the price that works for you
We offer picnics of various sizes and prices to fit your needs. Whether you want a table for two or for you and your 29 closest friends, we have a picnic for you!
Our pricing:
Table for 2: $250
Table for 4: $350
Table for 6: $450
Table for 8: $550
Table for 10: $650
Table for 12: $750
Table for 14: $850
Table for 16: $950
Table for 18: $1,050
Table for 20: $1,150
Table for 22: $1,250
Table for 24: $1,350
Table for 26: $1,450
Table for 28: $1,550
Table for 30: $1,650
3. Know how many people will be joining you
How many people will be attending your picnic? While we can accommodate plenty of people, you'll want to book your picnic with a specific number of people in mind to ensure you get the best experience! Knowing how many people will be at your picnic allows us to plan the right number of place settings, tables, chairs, decorations and more so everyone attending has a positive experience. You'll also want to have a day in mind, too.
4. Get inspired
We're here to bring the picnic of your dreams to life! Before booking, check out our Instagram page to see examples of our picnics. We have picnic setups for a wide range of themes and colors, from elegant ocean-side dining to laid-back picnics in the park; from soft pink hues to vibrant blues and more. Have your own perfect picnic in mind? Tell us what you're picturing and we'll see what we can come up with! We're happy to customize your picnic experience.
5. Get ready to have fun!
We'll handle the food and decorations, all you have to do is show up and enjoy! No need to set up, cook, or clean up – Epik Picnics will take care of all that so you can sit back, relax, and enjoy your picnic.
6. Ready to book your first picnic?
Excited to book your first Epik picnic? Send us a message on Instagram and let's get started!